Vegetables are the key to nutrient-dense, elimination diets like the Paleo and AIP diet.  Here are some recipes to give more life to our fibrous friends.
Lemon Rosemary Cranberry Brussels Sprout Recipe
Brussels sprouts are a multi-tasking vegetable packed with nutritional benefits! If they aren't in your diet because you have sour childhood memories of boiled brussels sprouts (me), it's time to change your tune! This recipe will help you achieve that crispy, restaurant-style sprout at home.
These Lemon Rosemary Cranberry Brussels Sprouts are a perfect spring-time vegetable. They are citrusy and herbaceous with a touch of sweetness from the dried cranberries.  I love to incorporate them into my weekly meal plan routine because they are rich in fiber that regulates gut health and digestion, high in vitamin C which helps your body absorb iron and boost immune function, and are packed with your full daily recommendation of vitamin K, which improves bone health.
Time Required: 1 hour
Prep Time: 15 Minutes
Cook Time: 40-45 Minutes
Grain-Free, Gluten-Free, AIP Friendly, Paleo Friendly, Nut-Free
Ingredients You'll Need:
3 cups brussels sprouts

½ cup extra virgin olive oil

3 cloves garlic

½-¾ cup dried cranberries

2 sprigs rosemary

1 medium lemon

Sea salt ½ Tbsp + extra to taste

Wild Zora

Mediterranean Lamb Bar
Preheat the oven to 450°.

Cut all of your brussels sprout bulbs in half and lay them out on a sheet pan. Press them with a paper towel and sprinkle ½ Tbsp sea salt over them in order to draw out moisture.  Let them rest there for 10 minutes while your oven preheats.

This will dry them out and lead to those crispy leaves you are looking for!

Place the sprouts in the oven on the middle-rack and let them bake for 10 minutes.  Open the oven, shake the pan or use a wood spoon to turn over the sprouts. Bake another 5 minutes. The leaves should be browning and the sprouts will develop light golden brown color.

While the sprouts are in the oven, dice the garlic and pull the rosemary needles off of the sprig and chop roughly.

Take the pan out, and turn the oven down to 400°.

Place the sprouts in a large mixing bowl and add the olive oil, garlic, and half of the rosemary. Mix everything together, and spread the sprouts back in the pan.

Bake for another 30 minutes. While the sprouts are baking, chop the Mediterranean Lamb Bar into small pieces.

Pull the sprouts out and give the pan a good (and careful) shake so that you can get an even bake.

Sprinkle the chopped lamb bars and the rest of the rosemary over the sprouts and add the juice from half a lemon over the top. Place the sprouts back in the oven for the last 10-15 minutes.

Pull the sprouts out for the last time (phew!) and add the cranberries.  Taste the sprouts and add more lemon and sea salt to your preference!

Enjoy!
I oftentimes pair these with roasted chicken breasts or seared lamb chops! The kids love them and your gut will thank you.
Other AIP recipes to make your veggies delicious…
Michelle from Unbound Wellness provides so many Paleo, AIP and Whole 30 recipes that are highly creative and incredibly easy to achieve! Her Hashimoto's diagnosis has led to such empathetic and practical knowledge that makes her recipe content as educational as it is delicious. She makes me feel like a chef on a regular basis.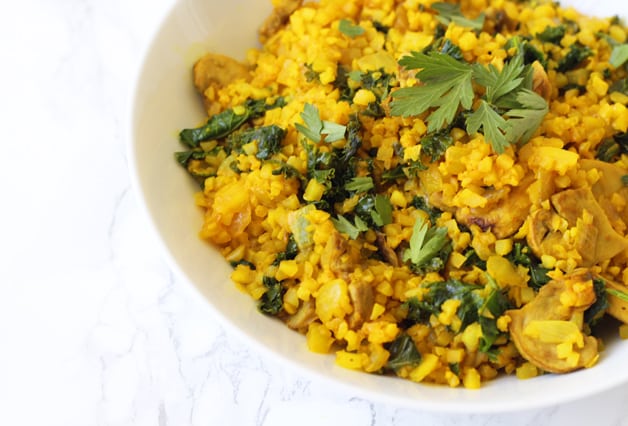 My favorite veggie recipe? Her Turmeric Cauliflower Risotto! She walks you through the anti-inflammatory and antioxidant benefits and even teaches you to make your own bone broth.  It's a must-try!
I go to Angie from Autoimmune Wellness (I know I always talk about them, but they're the experts) for recipes every time I'm in a cooking funk. Her recipes are incredibly well-balanced and thoughtfully put together.  
I've said it before, but I'll say it again: salads do not generally excite me. A bowl of greens, while great for me, often leaves me wanting more.  This Beet and Blueberry Chop Salad is a very tasty exception! The golden beets prepared in this way are perfect.  They are not overwhelmingly earthy as they sometimes can be in their raw state, and paired with the tart blueberry and slightly sweet balsamic dressing, they are beautiful. I'm gushing, can you tell?
Biohack U puts out tons of innovative AIP and low-fodmap recipes like this Rhubarb Ginger-glazed Bok Choy with Bacon.  They often force me to branch out and try cooking things I haven't tried before. This bok choy is savory and deeply satisfying, plus it really impresses at a dinner party!
Need more information about the AIP Diet?
In case you are new to the term Autoimmune Paleo Protocol Diet (AIP), it is a slightly more restrictive version of the Paleo diet. Along with the foods you cannot eat on the Paleo diet, AIP elimina
tes nightshades, alcohol, eggs, nuts, and seeds.  These foods have nutritional benefits and are not harmful to everyone. But for some, eliminating them from their diet reduces inflammation, supports more prosperous gut health (no more leaky gut), and helps combat the frustrating, chronic effects of autoimmune diseases.
Once your body has adjusted to the much more limited food selection and you feel better, you can slowly reintroduce foods. The process will give you a greater understanding of what triggers your own immune system. For more information on this, Dr. Sarah Ballantyne from The Paleo Mom provides detailed, step-by-step information about the AIP diet (like the graphic to the right).
So whether you follow the AIP or Paleo diet, these recipes are safe for you.
Love, your veggies, 
Zora Tabin (Founder, Mom & Healthy Snack Enthusiast)