AIP-Friendly & Paleo Breakfast
The AIP Pancakes of Your Dreams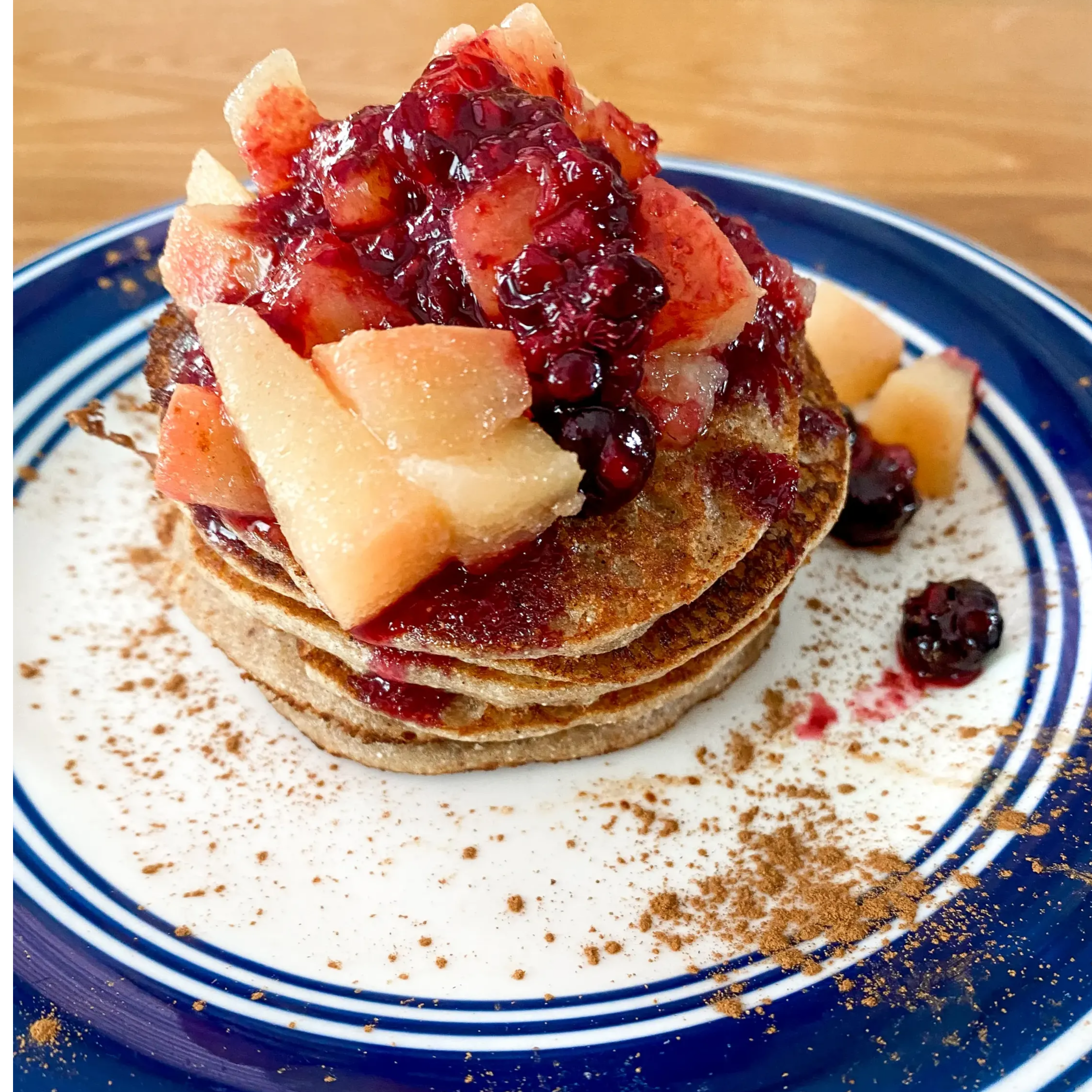 Mornings are the best part of my day, especially weekend mornings when there is no rush and the whole family gets to enjoy breakfast together.
During the week, I often have dinner leftovers in the morning to rely on (assuming that our kids did not beat me to the refrigerator and ate them all ☺) or I grab one of our Hot Cereals. But, on weekends I try to make our breakfasts a bit more special. As a mom, I'm always thinking of new ways to get my kids to eat healthy by trying different AIP breakfast recipes, but my critical teenage son Adrian could always tell they were AIP. I knew I was going to need to get creative to fool him.
We were all craving pancakes one morning so I took inspiration fromThriving on Paleo's creator, Michele Spring. She herself suffers from an autoimmune disease, so she is SO knowledgeable about all things AIP.
Her pancakes are amazing, but I was short on cassava flour. I had a bulk bag of the Wild Zora AIP Classic Hot Cereal so I improvised and out came the most amazing, fluffy, not-at-all-gummy pancakes the whole family loved, including Adrian! He had NO idea they were AIP-friendly ☺ (I win!) AND the absolute best part ...all you need is a simple blender (no bowls, or mixing spoons to clean up) and a hot pan for cooking!
Because these pancakes fit into the AIP diet, they are totally egg free & dairy free, using homemade banana "buttermilk" which may sound strange but I promise it could not be easier and SO much cheaper than buying non-dairy milk in the stores!  
The key to extra fluffy pancakes is to allow the apple cider vinegar to sit for a couple minutes with your banana milk, which creates the "buttermilk" effect. ** Personal experience tip, if you're using a single-serve blender, the creation of buttermilk will create a sort of seal so open very carefully ☺

I made these for the whole family so we didn't have any leftovers but you could easily freeze these for meal prep for the week! Allow them to cook completely in a single layer. Once cooled you can stack them into a freezer-safe zipper bag and store them in the freezer for up to 1 month (if you can wait that long to eat them again ☺).
AIP PANCAKES RECIPE
YIElds: 15-18 Pancakes, or 3-4 servings of "silver dollar" sized pancakes

  * 1 cup Banana "buttermilk" (see instructions below for details, coconut milk could be a great substitute)
  * 1 1/2 tbsp Apple Cider Vinegar
  * 1/3 cup Unsweetened Applesauce
  * 1(heaping) cup AIP Classic Grain Free Hot Cereal
  * 3/4 cup Cassava Flour
  * 1/4 cup Tapioca Starch
  * 1/2 tsp Baking Soda
  * 1 tsp Date Sugar - The Date Lady is my favorite! (it's not actually sugar but dehydrated, organic ground dates)
  * 1/4 tsp Cinnamon
  * 1/4 tsp Sea Salt
  * Coconut oil (for cooking)
1. Make banana milk by blending 1 cup of water + 1 ripe banana
2. Add apple cider vinegar to the banana milk, allow to sit for 2-3 minutes.
3. Heat your griddle (or non-stick pan) to 250º-300º
4. Add all the dry ingredients into the blender with the "buttermilk".
5. Add in applesauce (this is especially important to do last if you're using a single-serve blender).
6. Blend until smooth.
7. Add coconut oil to griddle and adjust temperature as need (griddle should be hot but not burn the oil).
8. Pour roughly 2tbsp of batter on the griddle at a time, making these pancakes slightly larger than a silver dollar.
9. Cook each side for 2-3 minutes or until bubbles form and the edges start to brown.
10. Add your favorite toppings (see our favorites below) and enjoy while they're hot!
Everyone in my family likes their pancakes a different way and since the weekends (in our house) are for slowing down and enjoying time together, I decided to make everyone their favorite topping.
Our daughter, Abby, enjoys a sweet and savory breakfast so I made a small breakfast hash with leftover sweet potatoes (butternut squash would be so good here), onions, garlic, and a diced Apple Pork Bar (since we always have some on hand and it's the perfect substitute for breakfast sausage).
Josh and Adrian like their pancakes to be topped with fruits so I made two different toppings: stewed apples with cinnamon for Josh and berry compote with fresh lemon for Adrian.
I tend to like my pancakes with traditional toppings, so I used ground cinnamon and (lots) of maple syrup!
I hope you will enjoy these. Please leave me any comments below or email me your creations to zora@wildzora.com
Love,
Zora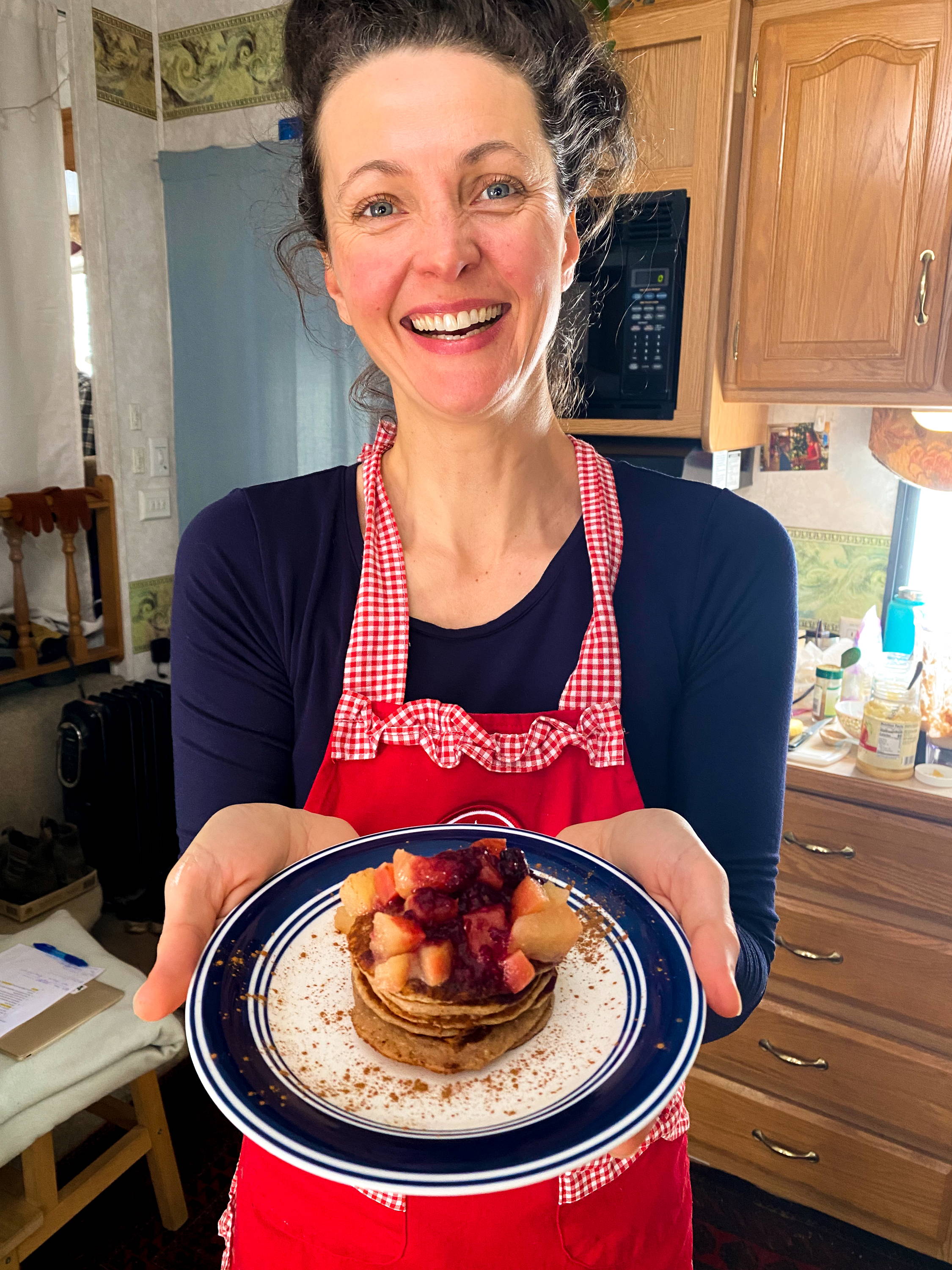 Wanna make these at home? Find our bulk Classic here:
---
STEWED APPLES with CINNAMON
BERRY COMPOTE with FRESH LEMON
Chop 1 large apple into small cubes (I didn't peel the apple since the peel has the most nutrients).

Stew the apple with a bit of water and about 1/4 tsp of cinnamon for about 5 minutes or until the apples are soft.

add 1/2 tbsp date sugar or maple syrup (optional but i highly recommend it)
Cook 1 cup of fresh or frozen berries (I used a blend of berries) on low heat with a bit of water for about 5 minutes or until soft.

Squeeze in the juice of half a small lemon.

add 1/2 tbsp date sugar or maple syrup (optional depending on how sweet your berries are)
---
---